We Know Real Estate.
Request our complete guides, free! You'll receive top down picture of nearly everything you need to consider as a real estate buyer or seller in any market. Get more informed by requesting our guides below!
Learn more about
Top 10 things you need to know before selling your home, including tips for low cost improvements for a better selling price
Discover how you know when it is right to make that repair, and knowing when and how to invest in your house
A complete step by step breakdown of real world facts VS real estate reality TV shows, comparing and contrasting the differences
The Seven Steps to Owning a Home, and how to maximize the success of your transaction every step of the way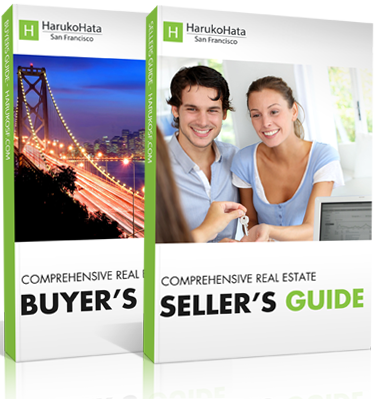 Download the guides below or ask a question and we'll answer promptly!
Contact Me
SEE WHAT OTHERS ARE SAYING
Thanks to Haruko we found the perfect condo for us!
When we first started to work with Haruko, we had no knowledge of real estate, but Haruko took the time to educate us about all aspects of the process so we could feel really good about our decision. As we started exploring different properties, she was very flexible and patient with us, coming to many open houses and learning what we needed in a home as well as giving us the information to help guide our search.
Buying a first home in San Francisco that met our budget and desires took a lot of searching, and she never rushed us. After a year of searching, and after taking a several month break, we suddenly found the place we really loved! Haruko sprung into action immediately, always answering our questions quickly, even late in the evening. She was very organized and responsible. Thanks to her help, we were able to make an offer within a week, and thanks to her advice on how to make our offer attractive, we were able to win the bid. We couldn't have gotten this place without her!
Next time we deal with real estate, we will definitely chose Haruko again since she's very trustworthy and in tune with what we want in a home.
Our experience with Haruko Hata was terrific
Our experience with Haruko Hata was terrific. She helped us to prepare ahead of time in order to be successful in purchasing the kind of condo we were looking for as an investment. With her help, we got our finances in order, we became more clear about our priorities, and therefore we were able to make a fast decision and made the "winning" offer for the property we really wanted. In our experience — What we found is if you really listen, learn from and follow what your agent, Haruko Hata, tells you is best for you to do, you can do really well in real estate.
The San Francisco market is really tough for first time buyers, but Haruko helped us through it all.
Haruko is wonderful. We are very happy to find a condo perfect for us, thanks to her.
We were real beginners and had lots of questions, which Haruko took the time to answer in detail.  Thanks to her explanations, we felt more comfortable with the home-buying process.  The San Francisco market is really tough for first time buyers, so it took us a while to find a place that met our needs and budget, but Haruko was really patient and helped us through it all.
Finally we a found a place we loved, and Haruko immediately jumped into action to help us make an offer within a few days.  She was so responsive, even late at night, and helped us make a really strong offer.  Thanks to her we could win even though there seven other bids!  If we didn't have Haruko, I definitely don't think we could have gotten it.
I highly recommend Haruko because she is honest, reliable, and is really good at relating to people and finding out what property will make them feel truly happy.
Great professionalism and integrity
We were overseas buyers for a property in the US. Our first meeting with Haruko Hata was when we started looking for US property to purchase onine via zillow.com website. Haruko was very prompt and responded to our email. Even though we only met Haruko for a short 2 weeks, we have never looked back since.
We flew into San Francisco and had a very tight schedule to look around for property to purchase. Haruko wasted no time, compiled a list of properties and took us around for viewing during the 2 weeks. We finally committed to purchase a property just prior to our departure. Being overseas, we basically had to rely heavily on Haruko for assistance and support every step of the way from the intial purchase to the property closing. Haruko handled it for us with great professionalism and integrity.
We have been most impressed with Haruko both on a personal and business level. As a person, she is very personal and warm. On a business level, she is knowledgeable, helpful, supportive, professional, trustworthy, committed, hard working, prompt and attentive. Due to time differences, Haruko would spend endless hours staying up late to communicate with us by phone or skype to assist us. She pretty much worked around the clock, so to speak. She was extremely prompt in replying to our email. She had never failed to reply to every single email we sent to her. We have never found an agent as committed to her client and work as Haruko. Our business dealings with Haruko might have ended now but we will always be in touch with her. We willd definitely use her top class service again in the future. We would have no hesitation to recomend Haruko to our friends or anyone who are looking for an agent to purchase/sell properties in the US.
Once again, thank you Haruko for all your assistance and support.
She made this a wonderful buying experience
Without her help, this transaction will not be possible. She is knowledgeable in terms of her trade and went above and beyond to assist in ensuring a smooth transaction. Haruko is detail-oriented, thorough and helped us navigate the myriad phases of our complex transaction. She is open and honest through out the entire process. We trusted her to guide us and we highly recommend her and she made this truly a wonderful buying experience for us.
She has been the best realtor
I absolutely felt that Haruko was our advocate. She was efficient, prompt in response to all of our questions and concerns. She was always available and coordinated with workmen, inspections, bank financing and escrow agents and always immediately followed up with us. She has been the best realtor that I have dealt with in over 20 years of buying and selling houses.
Haruko cut through it all with deft precision
I have had the pleasure of working with Haruko twice in the past five years. She helped me find my dream condo in Duboce Triangle in 2010, and this year she helped me to find my first investment property in the Financial District. When I first sought to find a place for myself, my mortgage broker recommended Haruko. When I met her, she immediately put me at ease. She explained clearly all the steps that would be required in the process, common pitfalls, how to read through disclosures, and how do handle the offer process. Buying a home truly is a maddening amount of information to sift through and risk to assess, and Haruko cut through it all with deft precision. She helped me narrow down my search and took care of all the scheduling, saving me a tremendous amount of time. In no time at all, we found the perfect place, made the right offer, and everything fell into place. So I turned to Haruko again this year when I wanted to purchase an investment property.