A Compass Special Report for Bay Area Real Estate Markets Survey. After 7 years of strong market recovery (or "up cycle"), there are preliminary signs of notable shifts in the market – but the magnitude of the changes vary considerably by statistic and by county. Though everyone wants to jump to definitive conclusions, it would be premature to confidently predict the course of a sustained, longer-term transition, if that is what is occurring. There are a lot of spinning plates in local, national and international economies and politics right now.
Declining & Sometimes Negative Appreciation Rates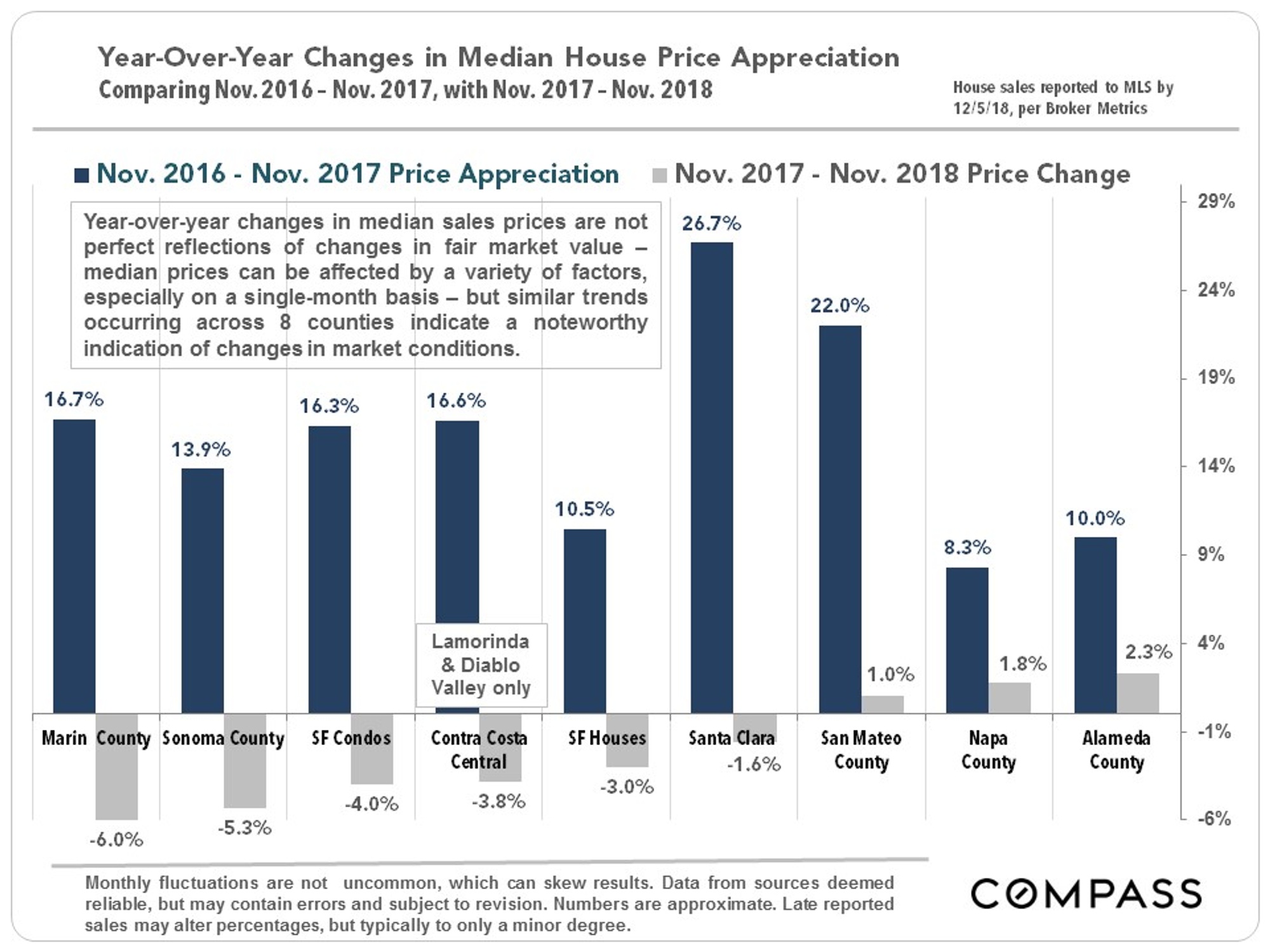 Q3 2018 Median House Sales Prices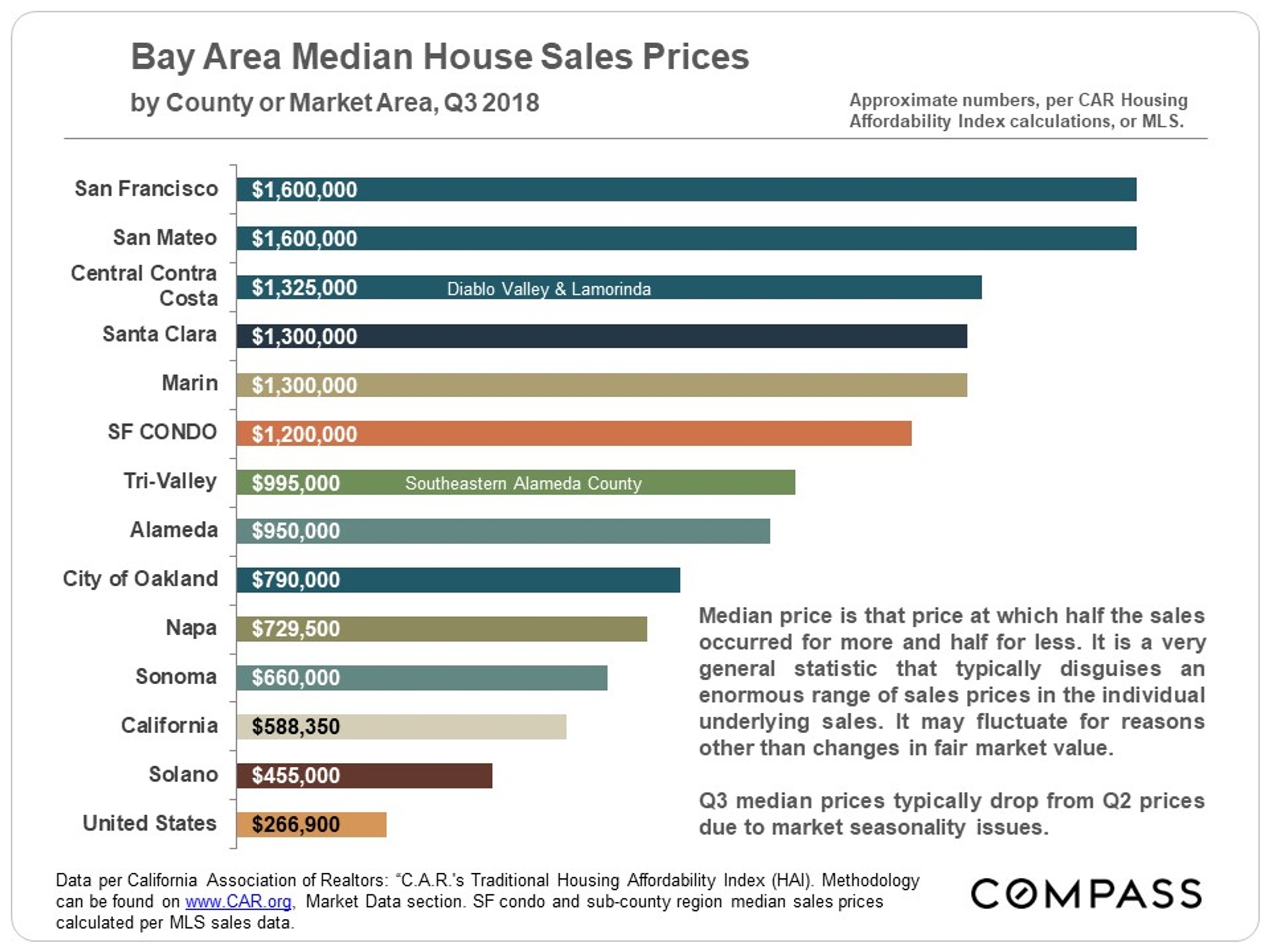 What the Median Price Buys by Bay Area County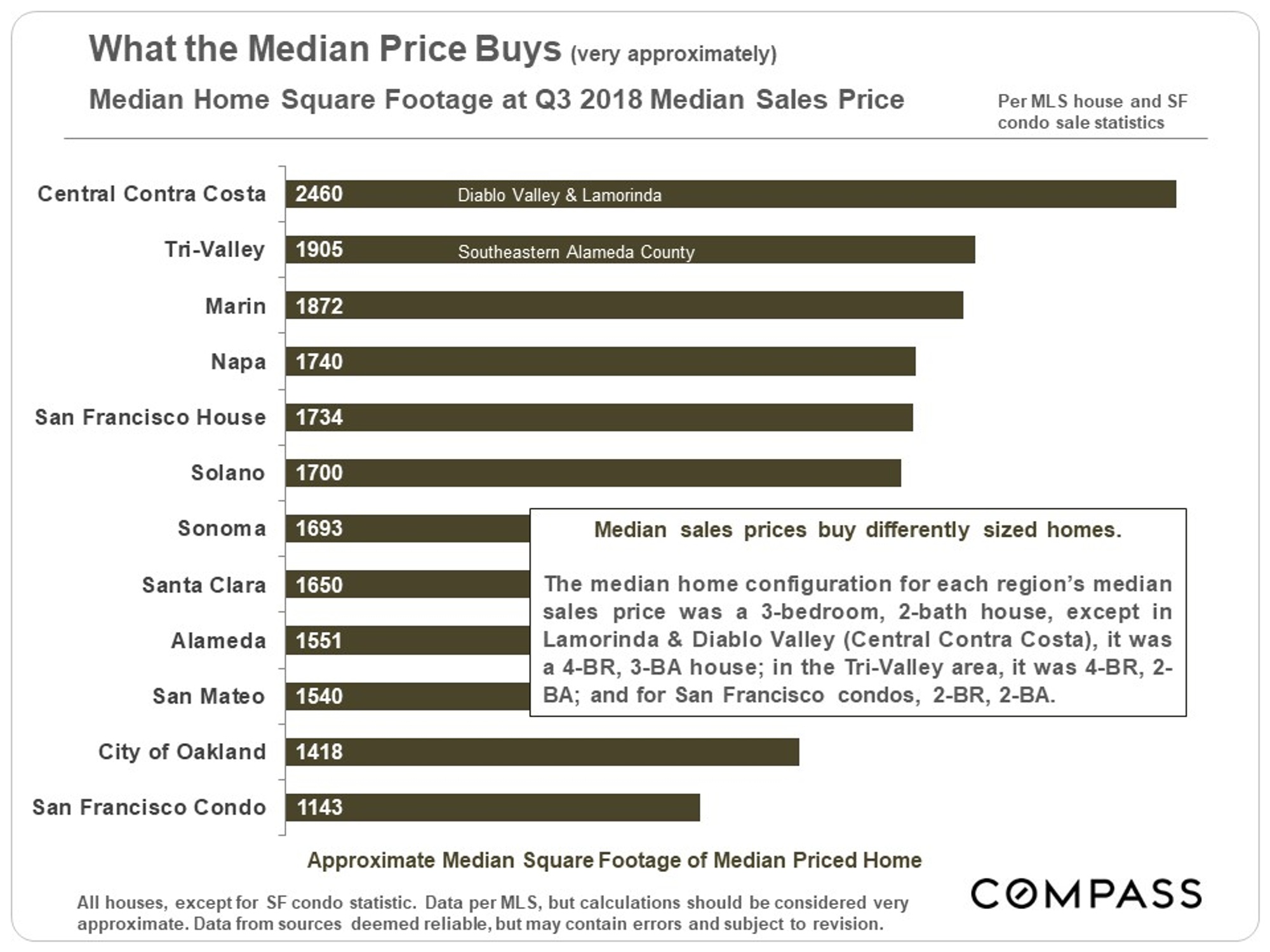 Bay Area & CA Appreciation since 1990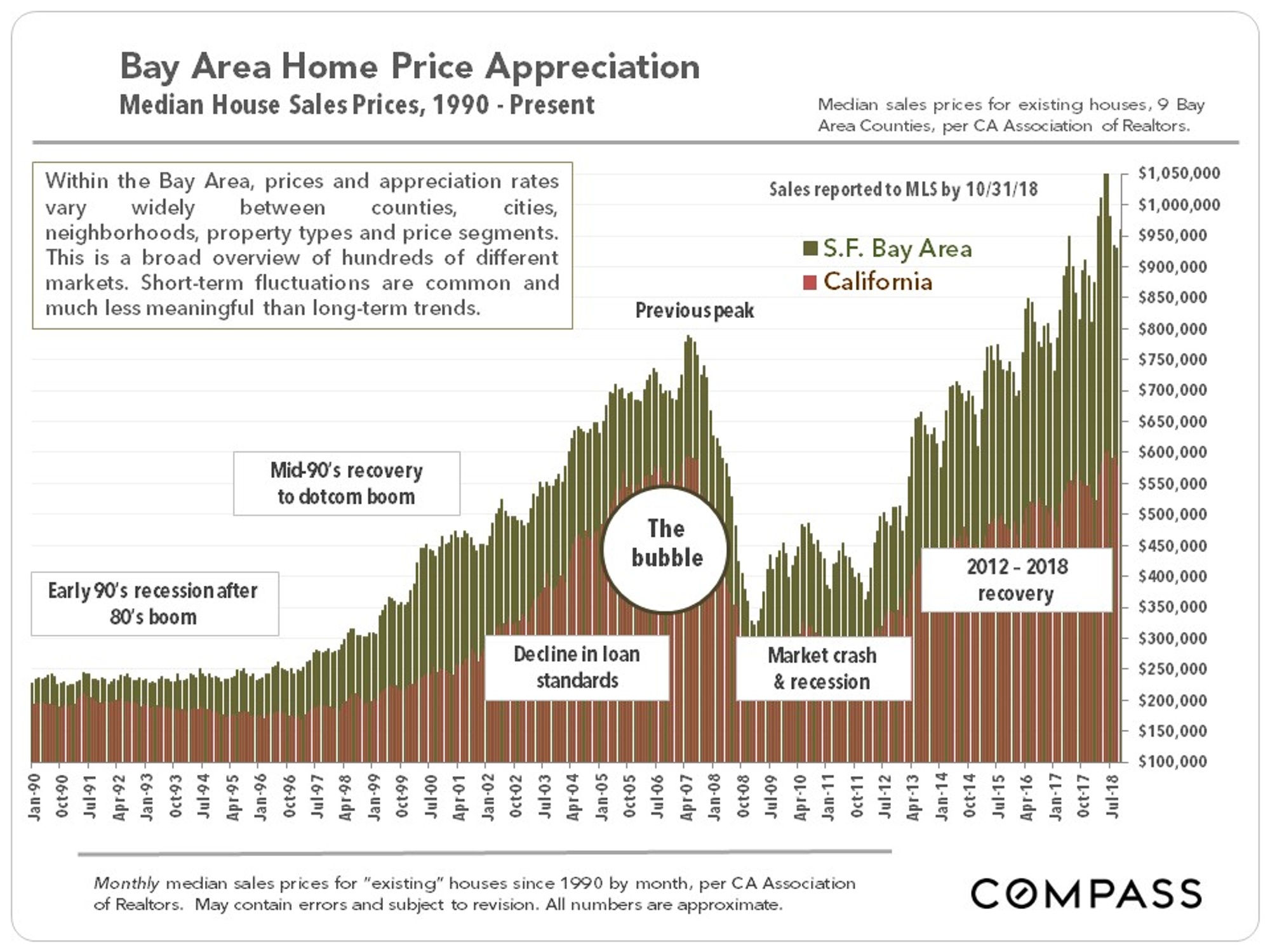 Bay Area Annual Appreciation 1990 by County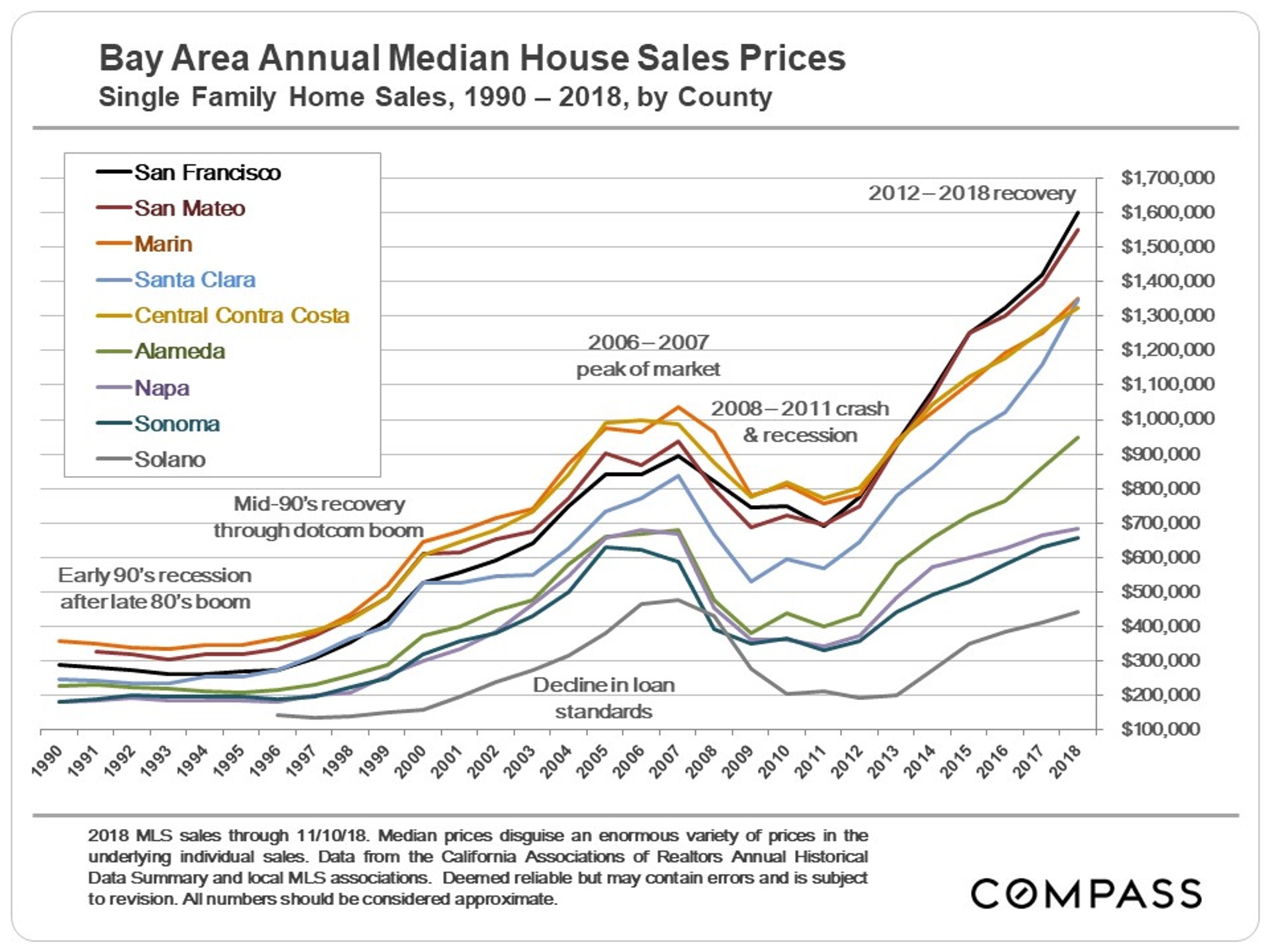 San Francisco Home Price Appreciation
As a sample of county median price trends, below is a chart illustrating 3-month-rolling median price movements in SF itself – 3-month rolling data doesn't fluctuate as wildly as monthly prices sometimes do, though there are clear seasonal changes. It's not unusual for median sales prices to drop from springtime highs, but the drop this year in the median house price (the top blue line) has been somewhat longer and deeper than is usually the case: By November, it was $145,000 below the peak hit in April 2018.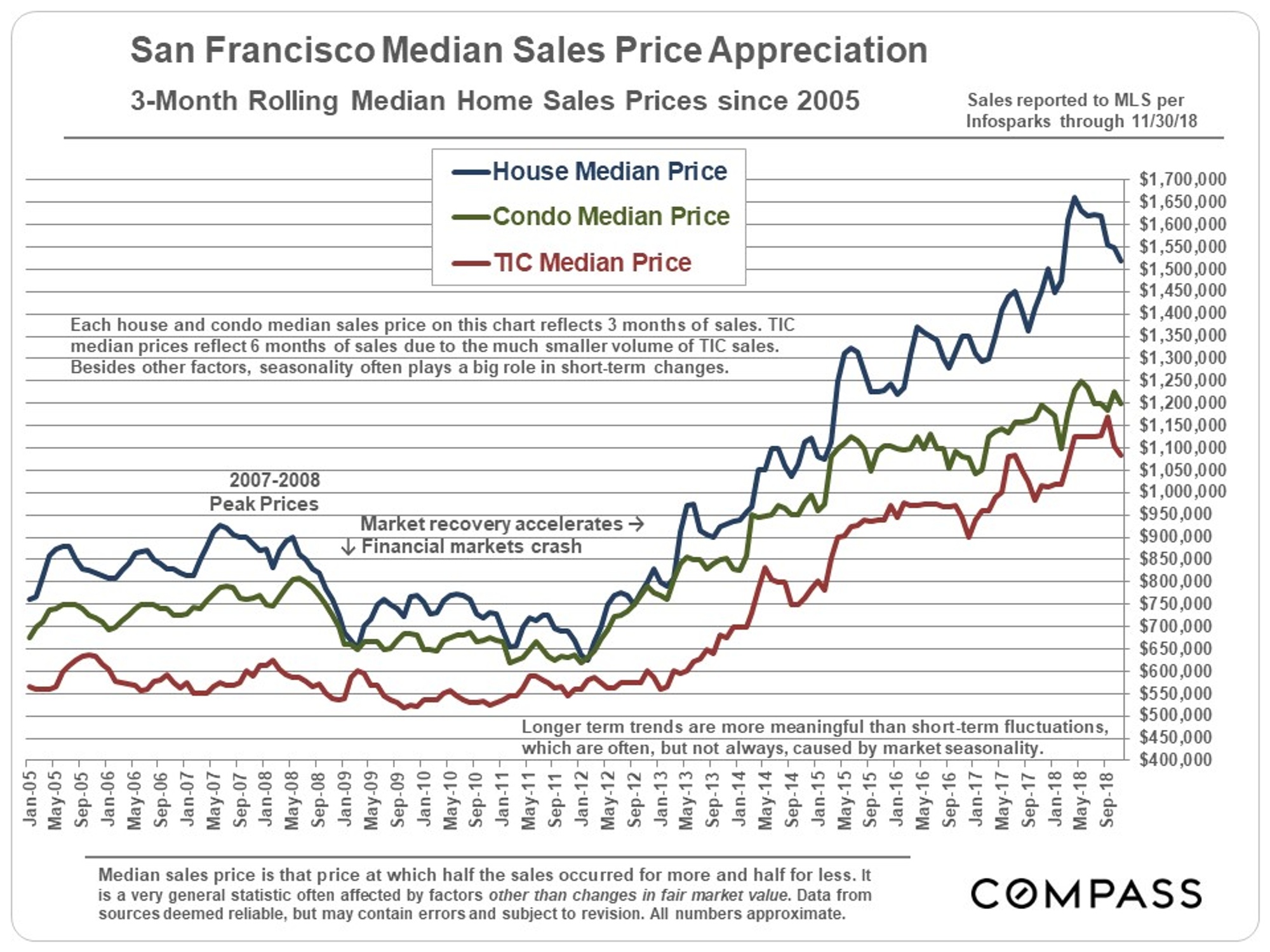 Bay Area vs. U.S. Appreciation since 1987
The below chart based on S&P CoreLogic Case-Shiller data – which uses its own algorithm to measure home price appreciation instead of median sales price changes – compares real estate market cycles between the Bay Area and the United States over the past 30 years.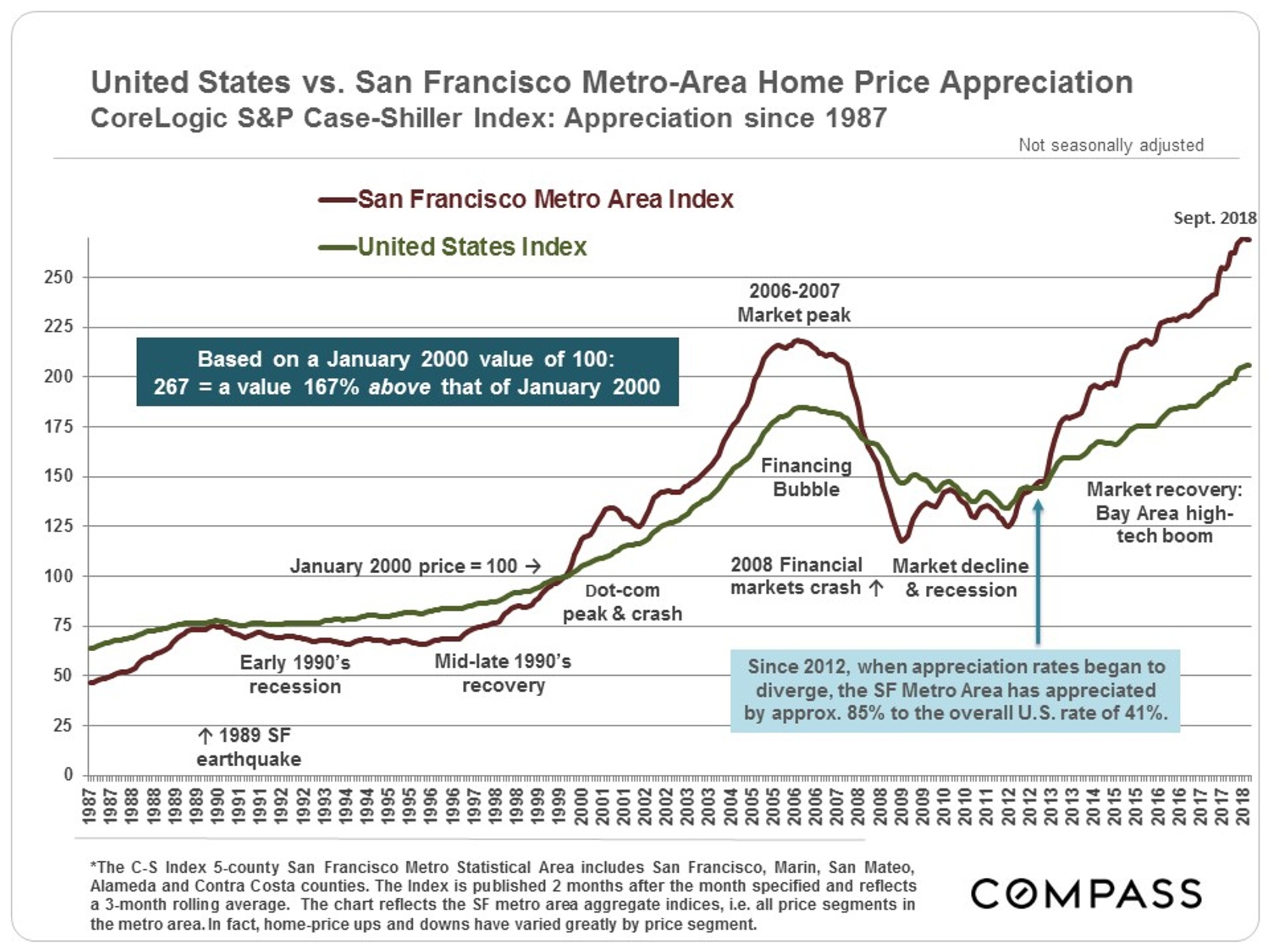 U.S. Comparative Home Values by City
One can buy approximately 14 median-priced 3-bedroom homes in Philadelphia, 10 in Houston, 4 in Miami or Portland,  or 2 in Seattle, for the cost of one in San Francisco.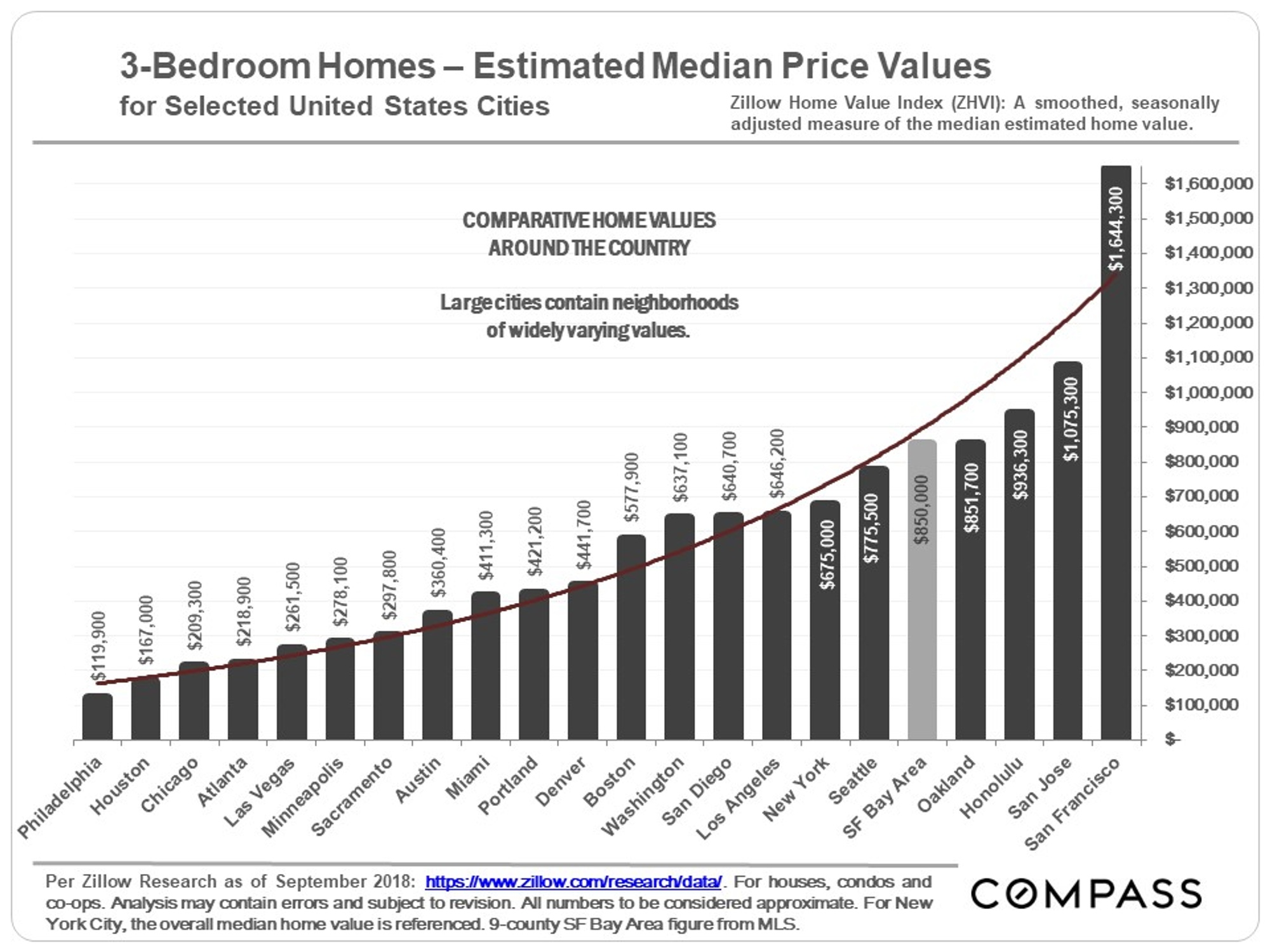 Bay Area Median Lot Sizes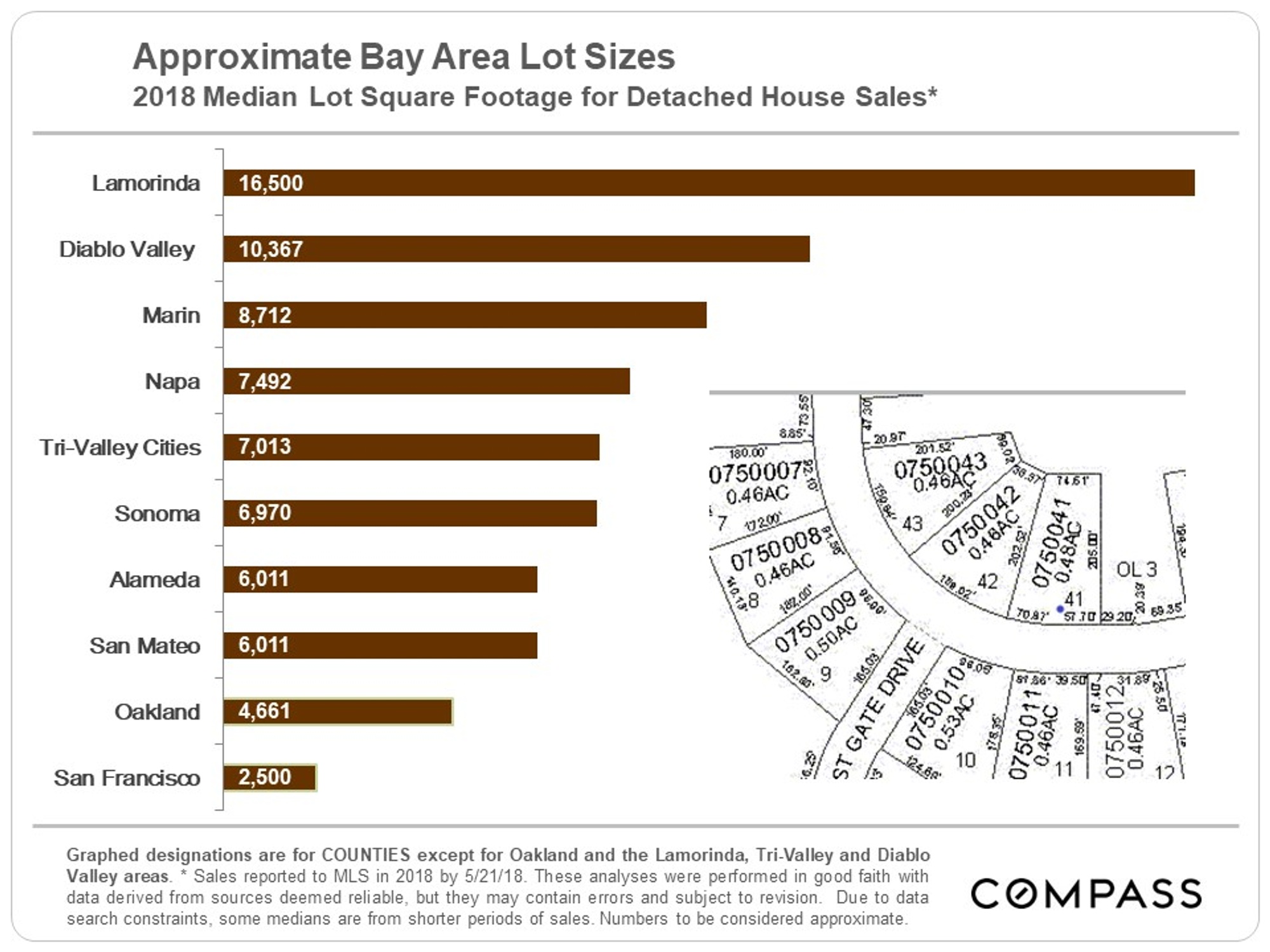 Bay Area Median Condo Prices & Appreciation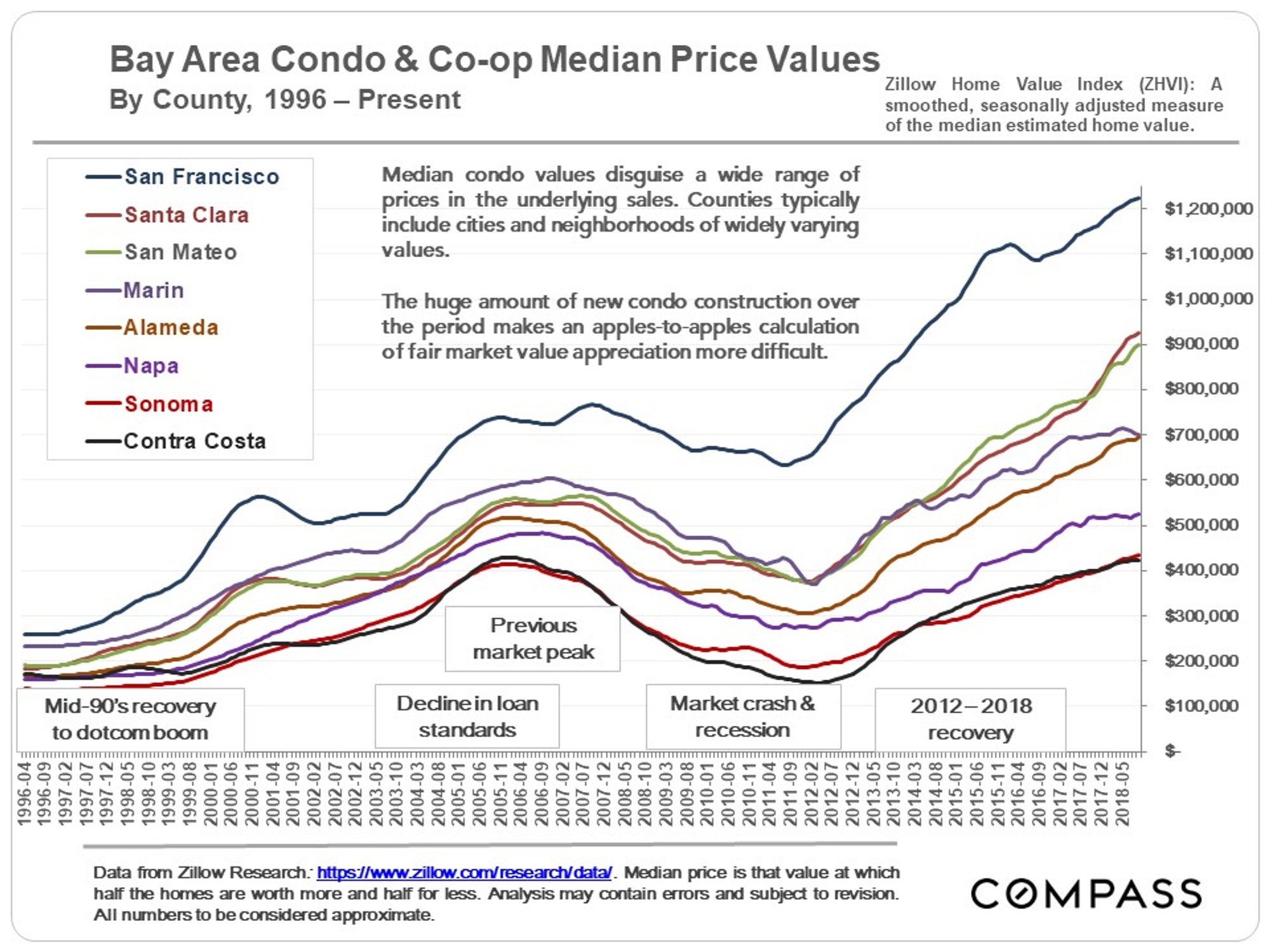 Sales Volumes by County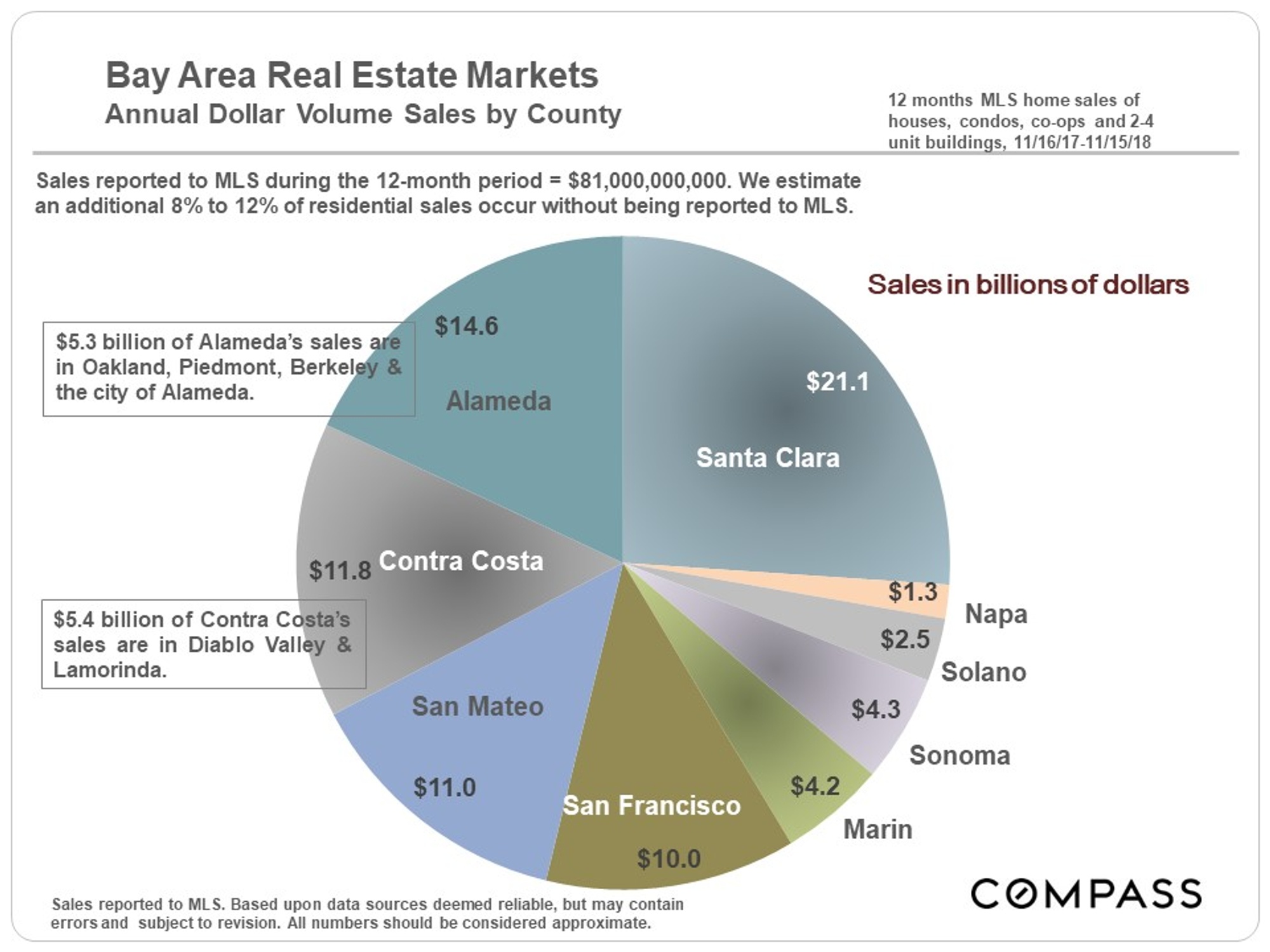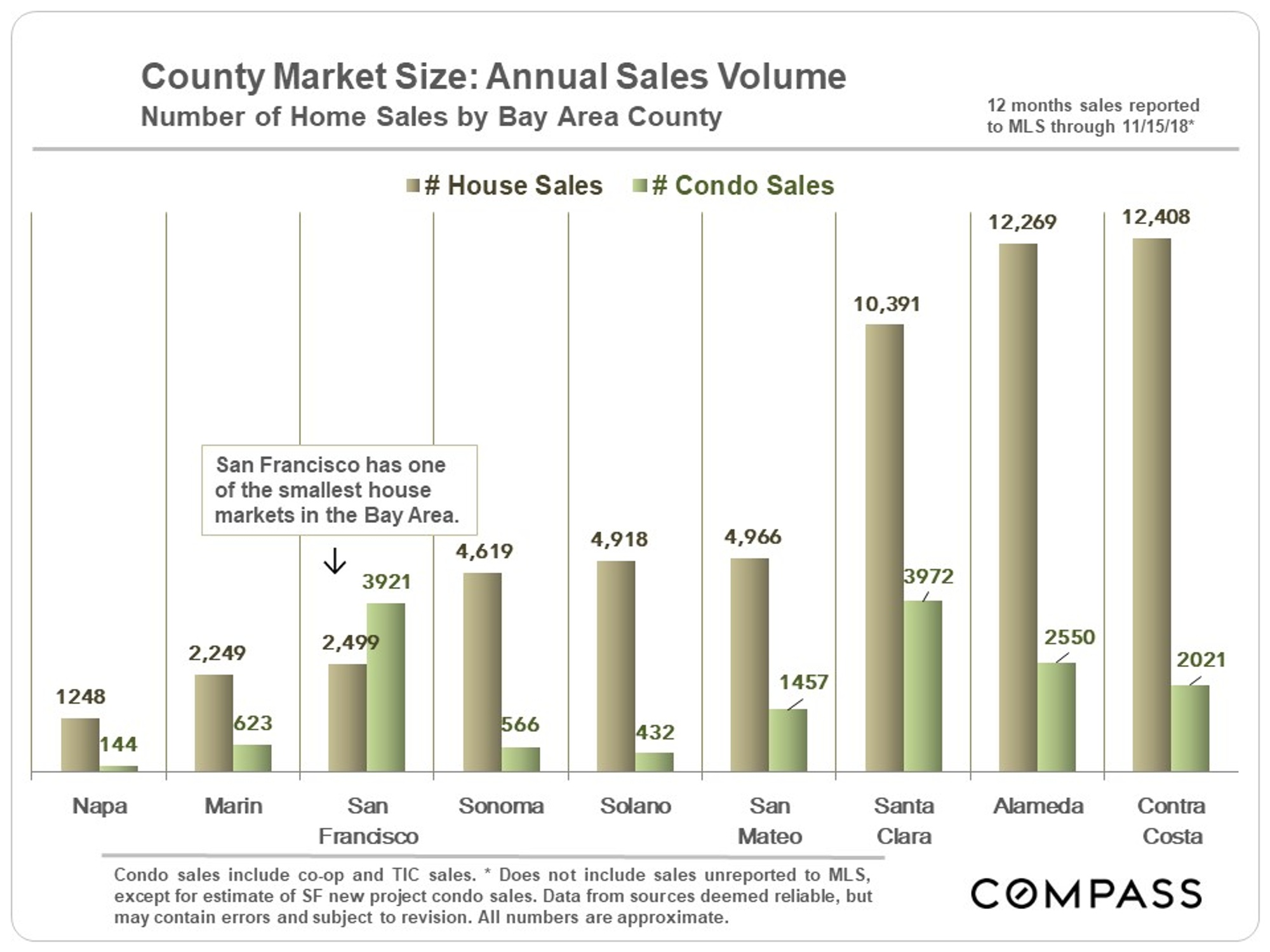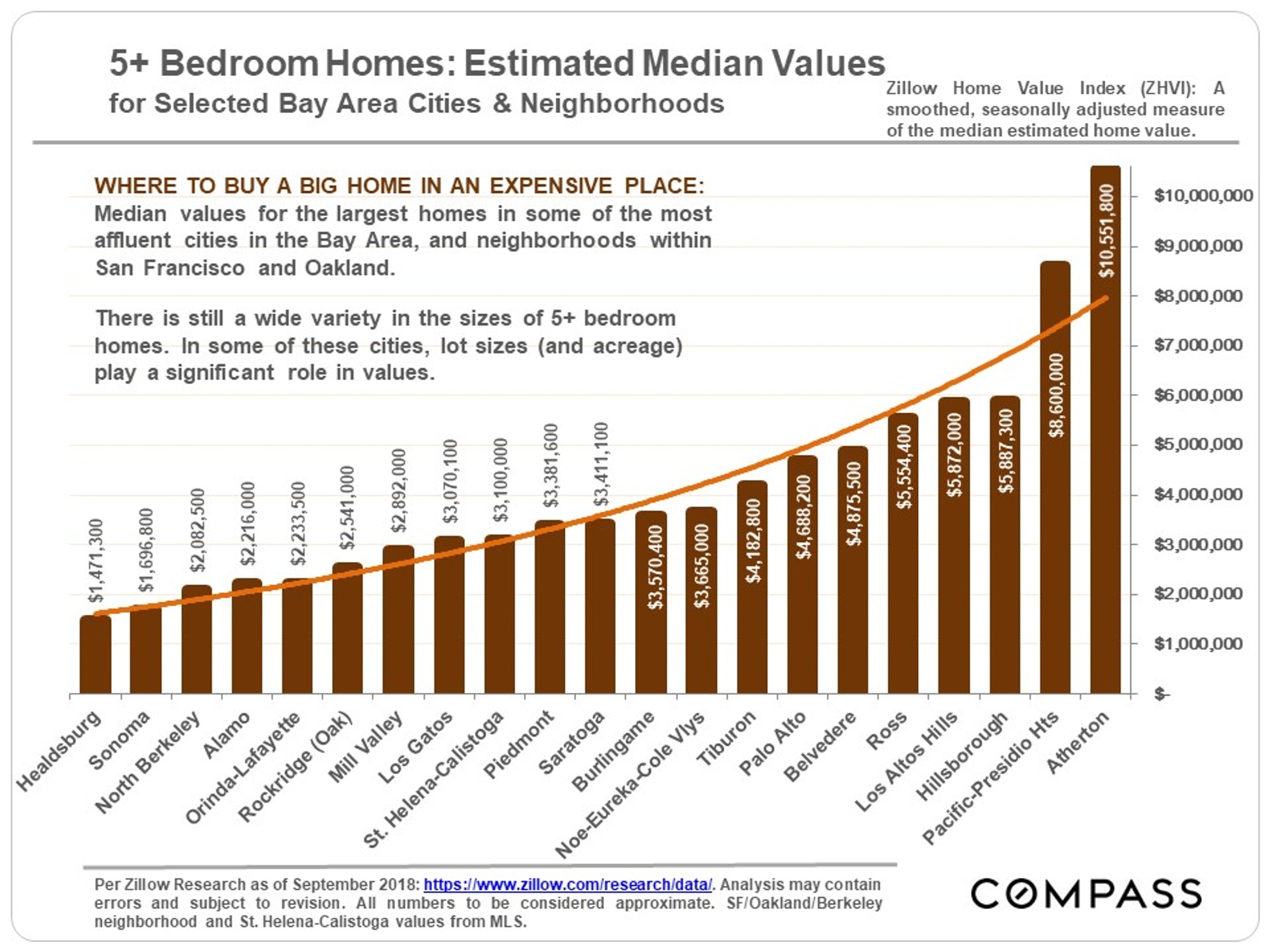 Supply & Demand Indicators 
Listings vs. Sales
Though not especially high by historical standards, the overall supply of listings on the market has been appreciably increasing this autumn – to its highest level in 4 years (as charted below) – but sales volume in September-November 2018 was down about 12.5% on a year-over-year basis (not charted). That's about 2000 fewer sales.
Generally speaking, during the recovery since 2012, an inadequate and often decreasing number of listings met increasing and sometimes feverish demand from buyers, adding immense upward pressure on home prices. For the time being at least, that pressure is now subsiding as the balance between supply and demand shifts.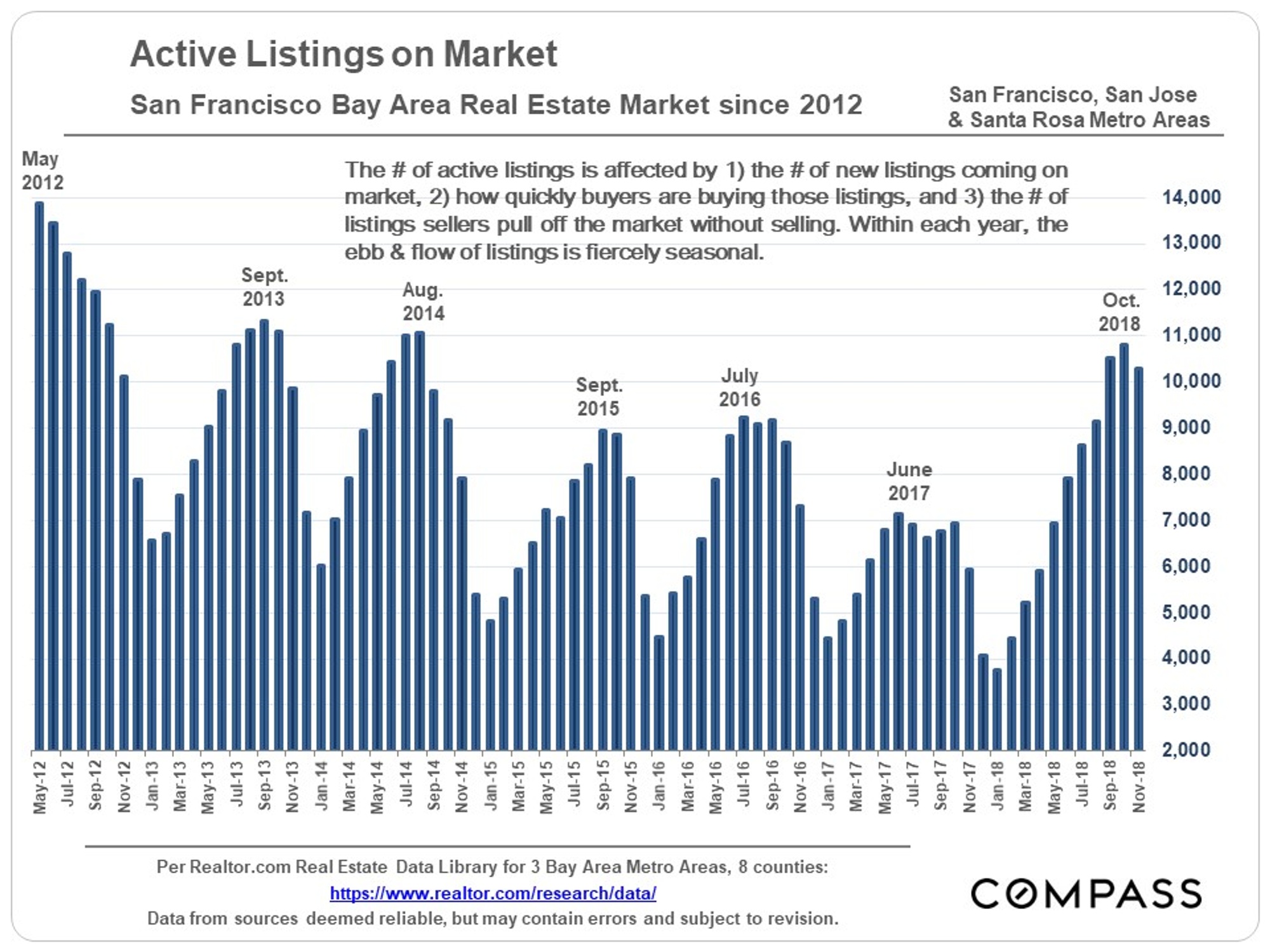 Overbidding & Under-Bidding
As demand declines and inventory increases, the competition between buyers – and the need to overbid asking price to win the sale -subsides. Seasonality plays a big role in this statistic, and there are still many homes selling for over asking price, but the overall average Bay Area sales-price-to-original-list-price percentage has dropped below asking price – by a smidge – for the first time since January 2017.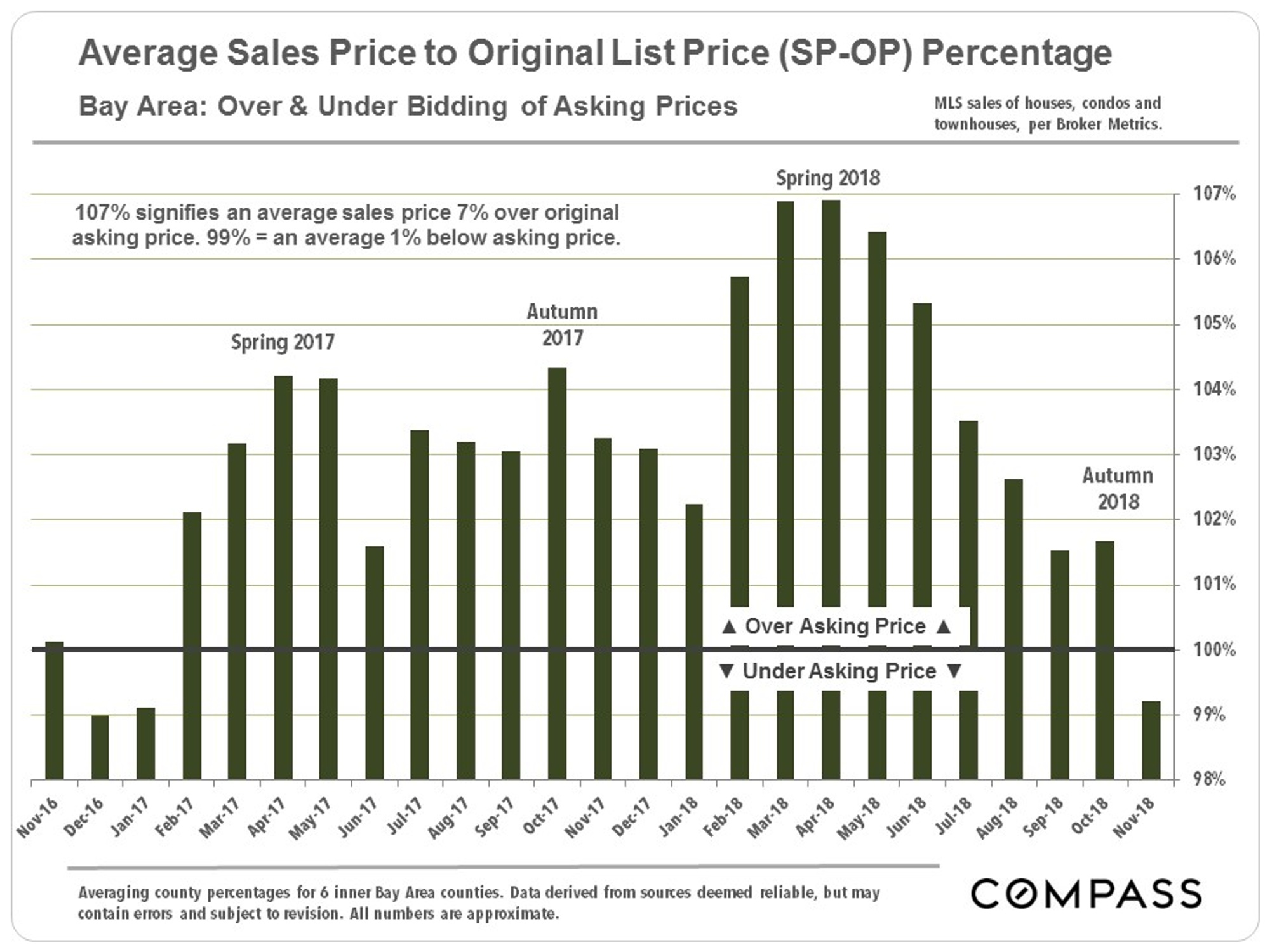 Price Reductions
The dramatic increase in price reductions is a stark indicator of changes in the supply and demand dynamic. October saw a massive spike, but September and November numbers were also much higher than in the previous 6 years. Price reductions are a measure of the difference between buyer and seller expectations as to fair market value.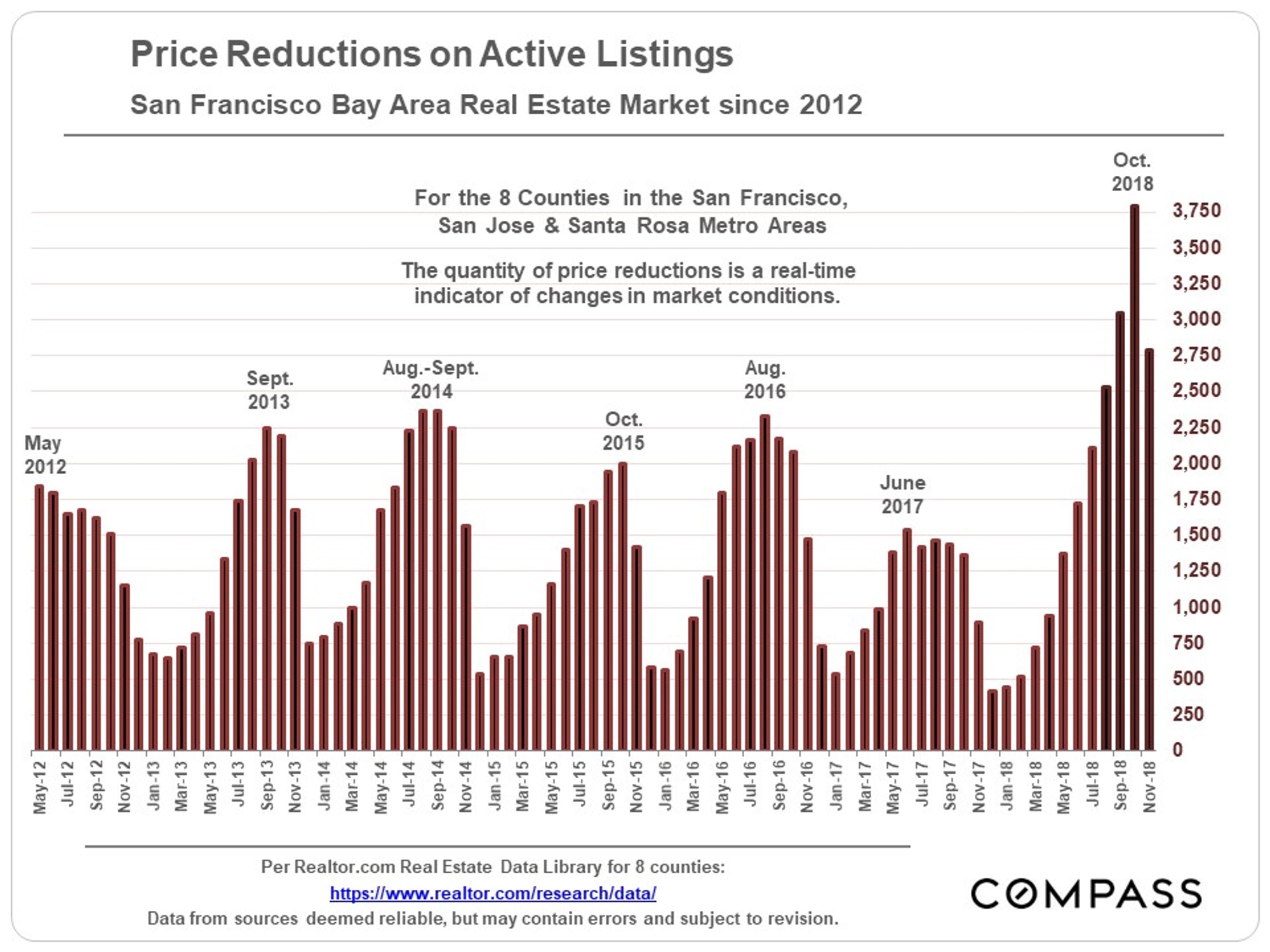 Expired & Withdrawn Listings – No Sale
The increase in listings taken off the market without selling – which jumped to about 2000 in November – is another indicator of disconnect between what sellers are willing to accept and buyers are willing to pay. Expired/withdrawn listings typically peak in December, so we may see a further increase next month. Many sellers who pull their homes off the market in November and December will try again next year.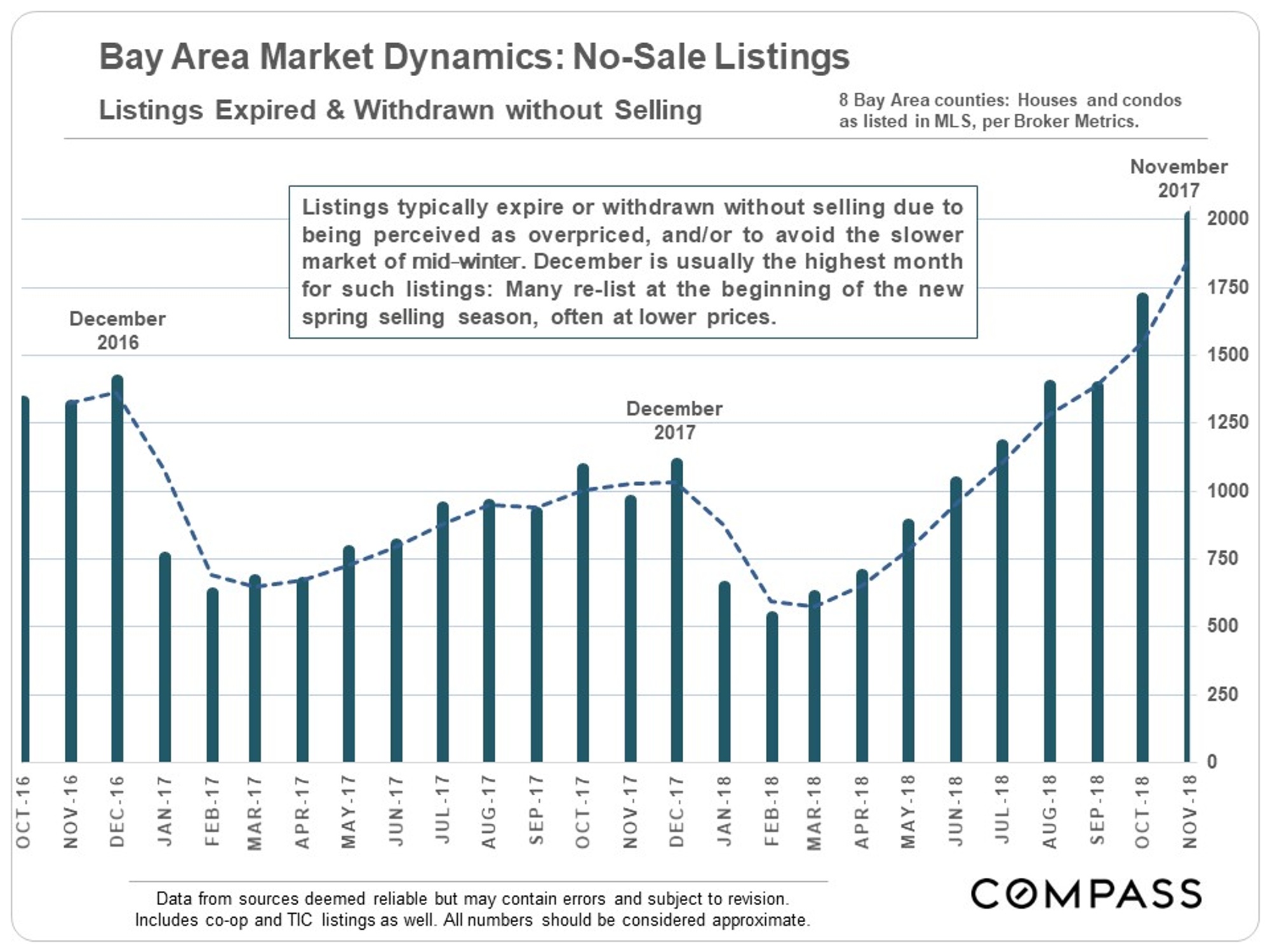 Mixed Economic Indicators
Housing affordability is a huge social, political and market issue in the Bay Area. Though very low, current affordability percentages – as calculated by the CA Association of Realtors Affordability Index – are not quite as low as in 2007. (We cover affordability in a separate report.)
Bay Area Rents
Most economists expect to see something of a balance between what it costs to buy or to rent a home, but since 2015, rent increases have either moderated, or, in the case of San Francisco, rents have declined, while home prices and interest rates have increased substantially.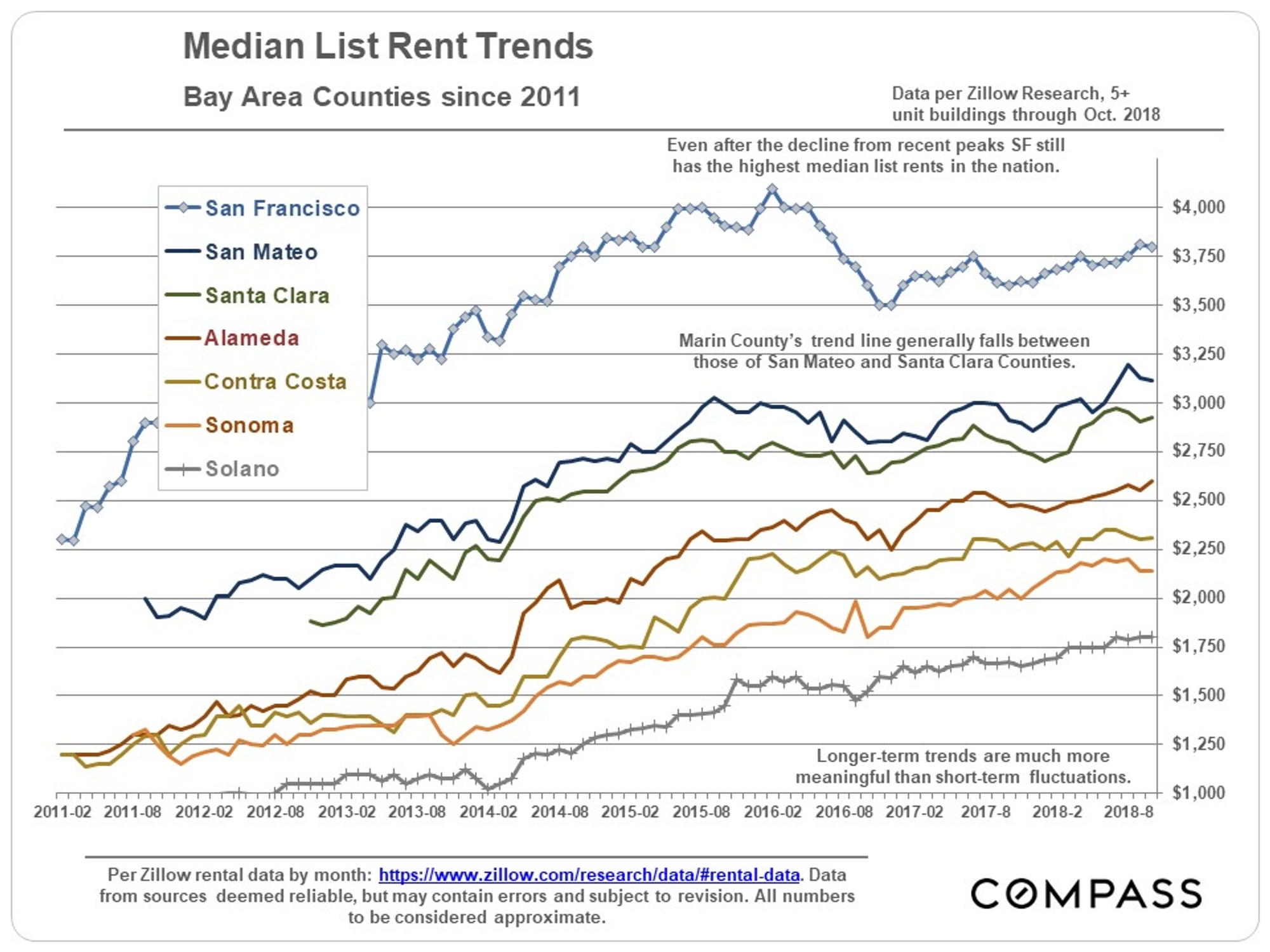 Employment
Since the last recession, the Bay Area has been one of the greatest job creating machines in the world. Unemployment rates are currently bumping along at historic lows.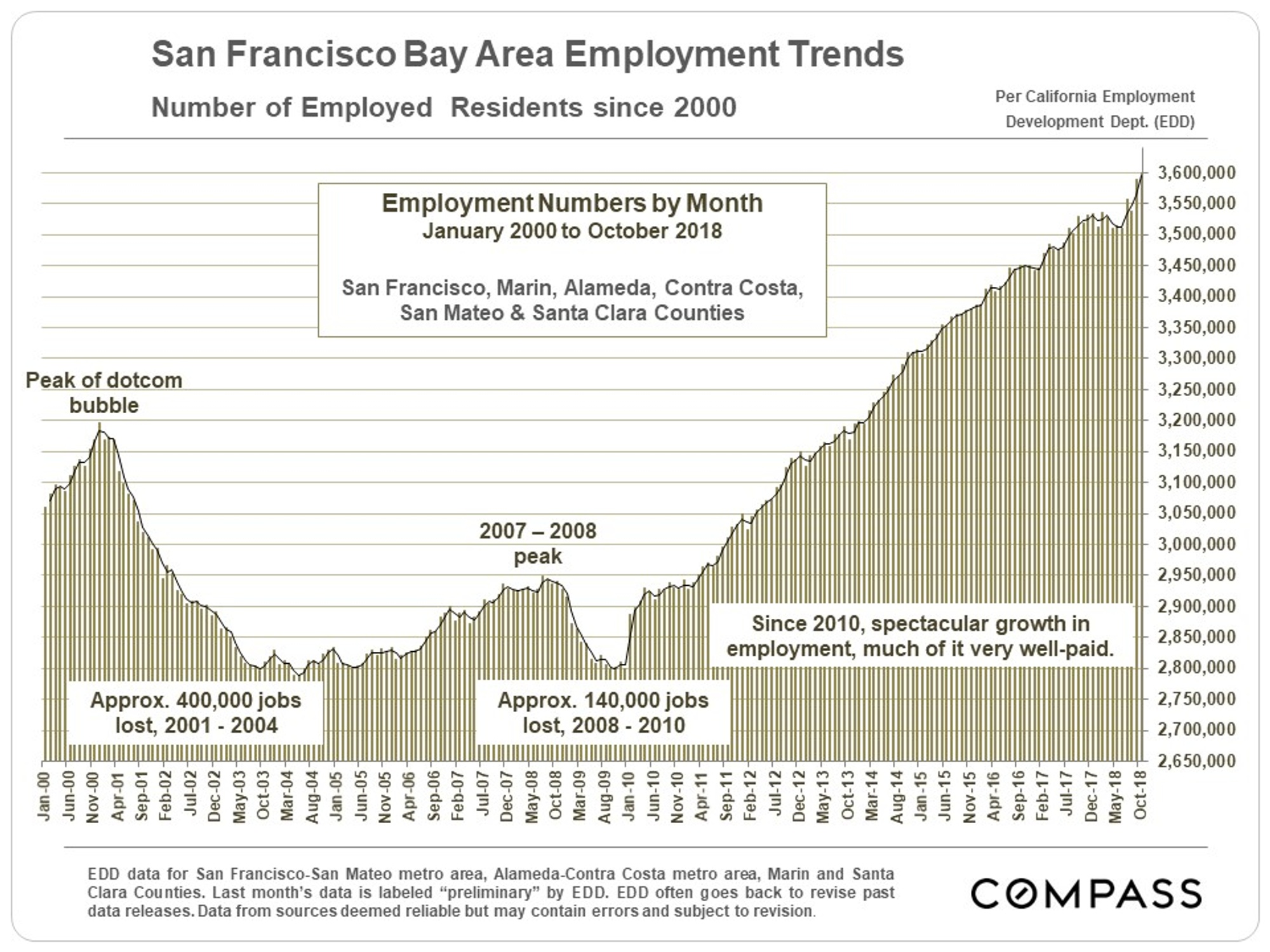 Money, Money, Money
The astonishing amount of venture capital sloshing into the Bay Area affects the overall economic environment and its housing markets. When start-ups go public they can pour additional, immense quantities of new wealth into the pockets of founders, investors and employees – and then into the surrounding economy. Some major local unicorns have stated their intention to go public in 2019, though continued stock market volatility may affect those plans.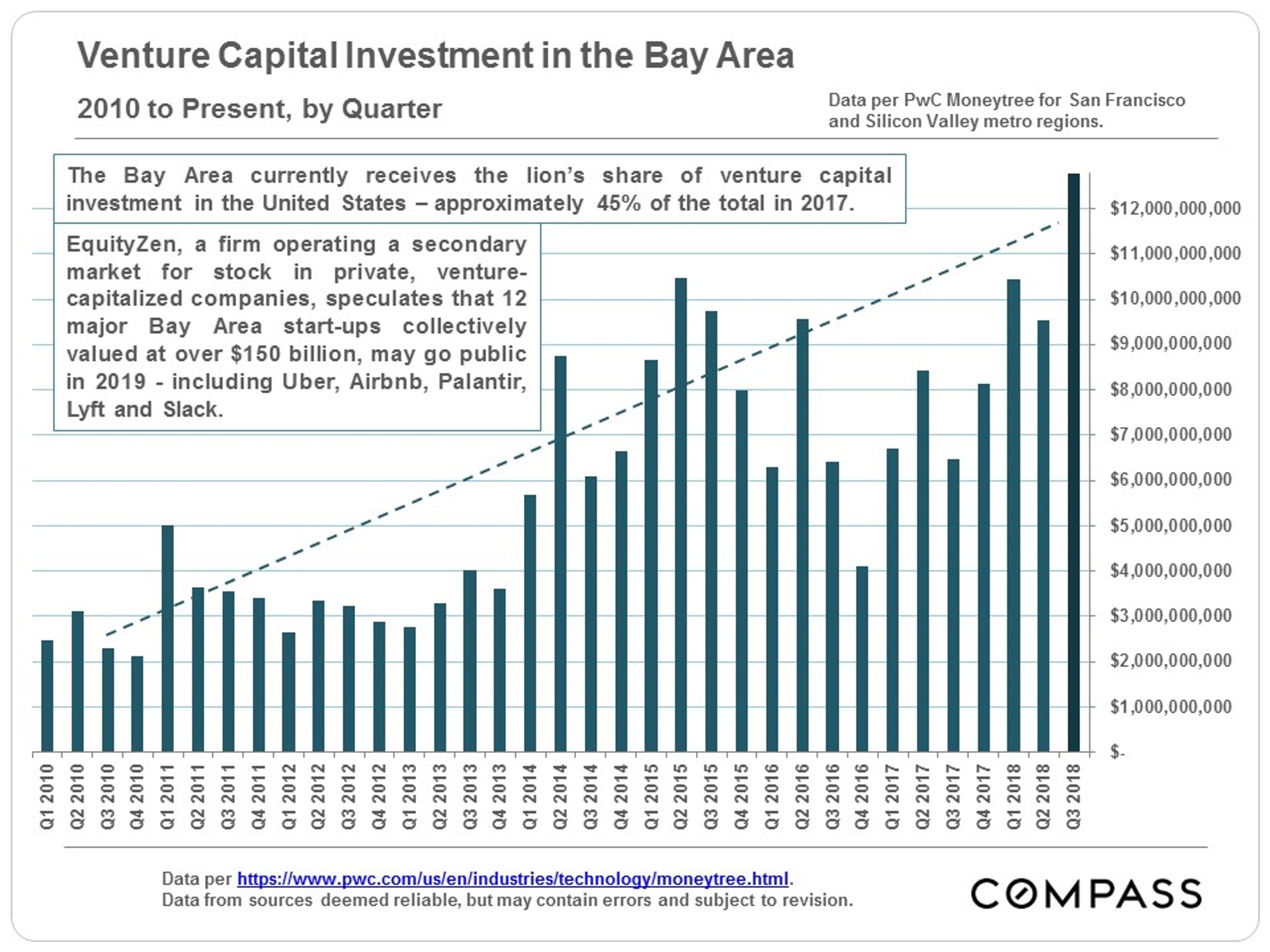 Local median household incomes have risen well above the national median. Among other factors, the people moving into the Bay Area tend to be more affluent than those moving out. (However, local poverty rates have also risen in recent years.)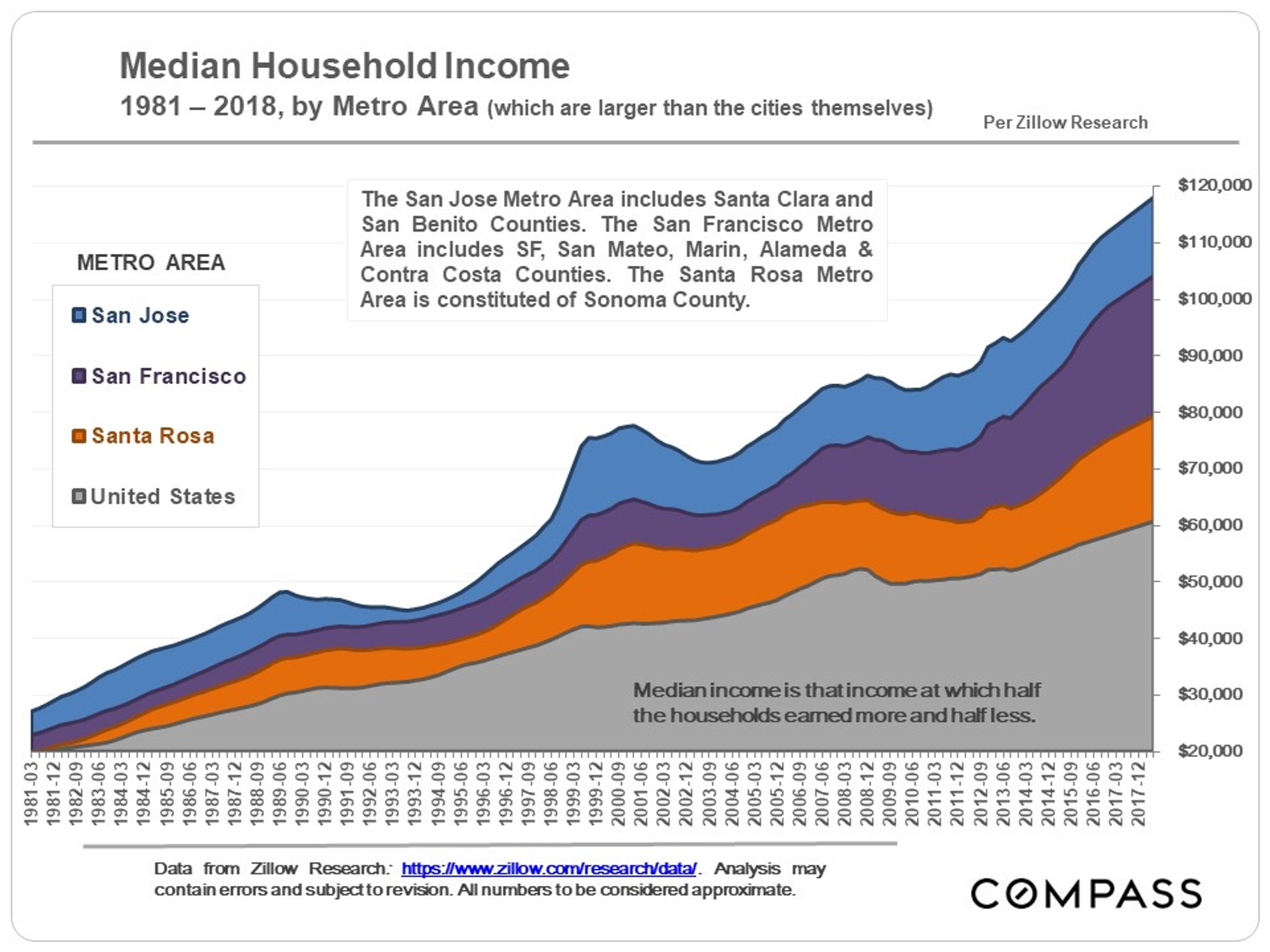 Stock Prices
The S&P 500 saw an incredible surge in value from January 2016 through late September 2018 – rising about 50% – but its increase looks distinctly modest compared to the astounding share price movements of some of our local high-tech giants. Soaring stock values make people feel wealthier, more optimistic about the future, more willing to take on new debt, and more positive about buying new homes (and everything else). But when financial markets get volatile, sometimes seeing sudden, precipitous declines – as has occurred in recent months – buyers often become cautious.
Note that as of early December, financial markets have lurched up and down again since their late November lows, i.e. a queasy, high market volatility continues.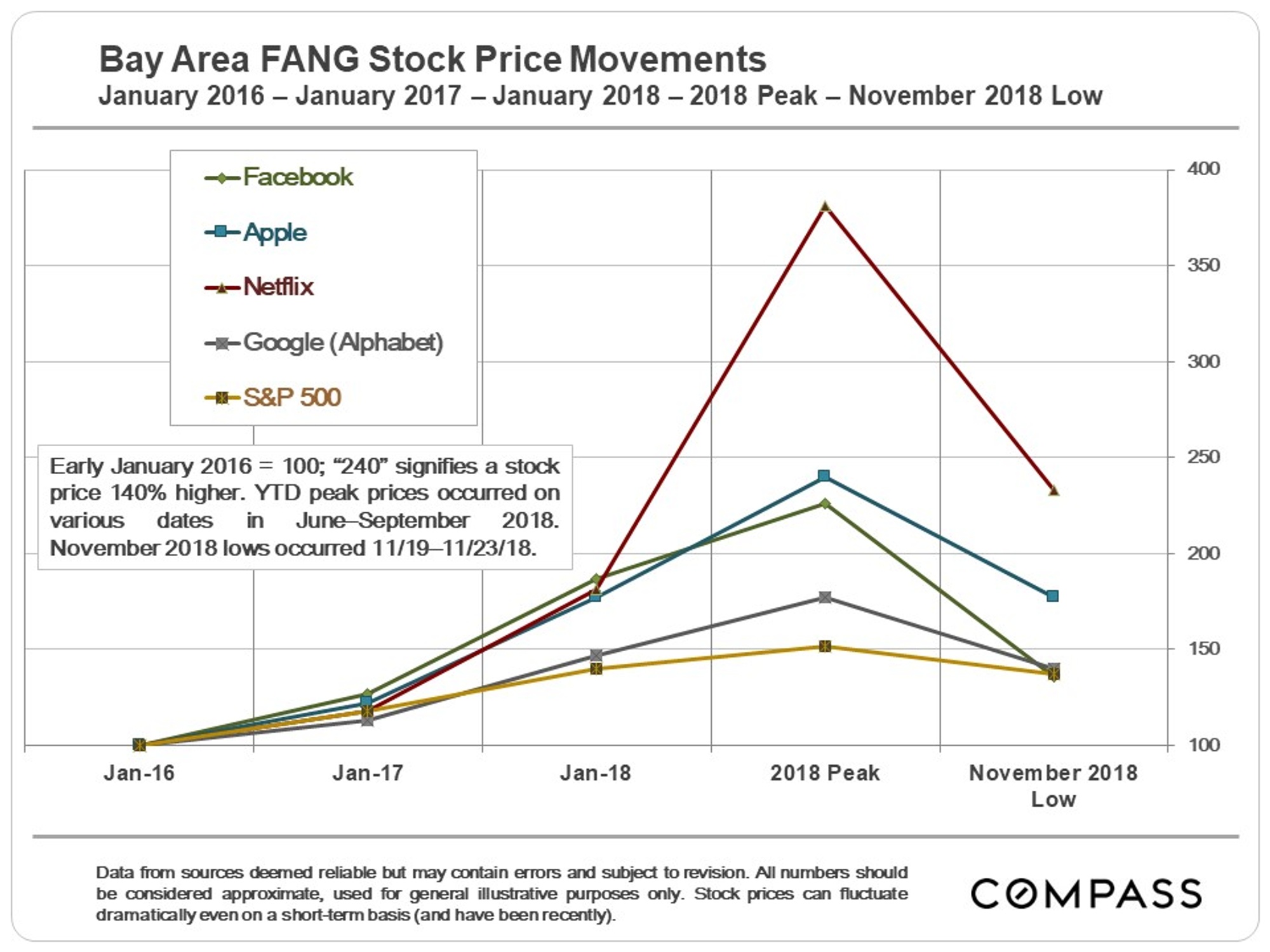 Interest Rates
Through spring 2018, home buyers appeared to shrug off concerns about rising interest rates, but that seems to be changing as rates continue to adversely affect affordability. Besides mortgage costs, increasing interest rates affect debt of all kinds, and whether private, corporate or governmental, debt levels around the world are generally at historic highs. High debt plus rising rates can be a dangerous economic indicator.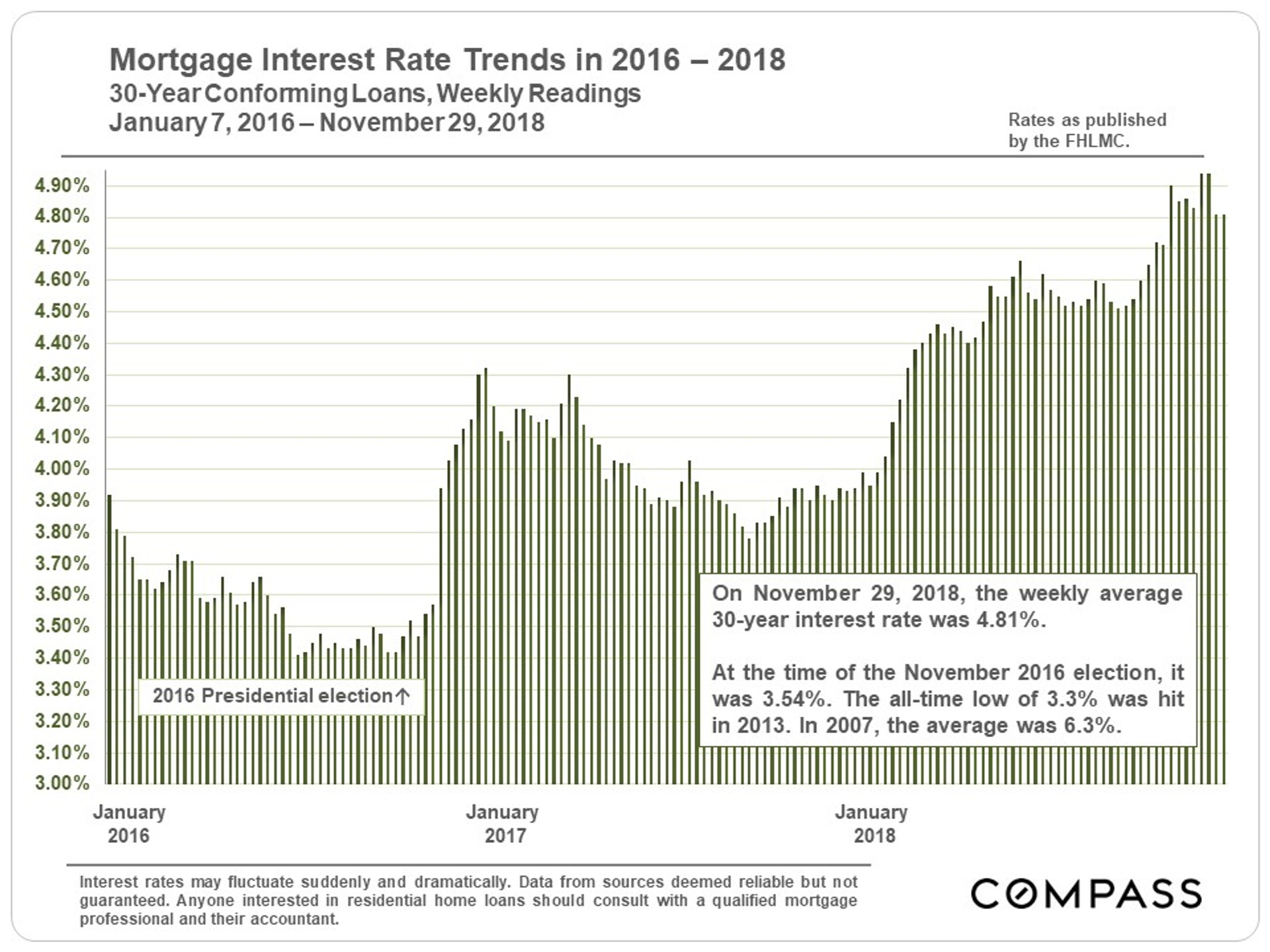 Population Growth & Migration
Increasing populations without a concomitant increase in new housing pressures rents and prices. Right now, California and Bay Area populations continue to grow, but at a reduced rate from recent years. Of course, population growth itself has both positive and negative economic and quality of living effects depending on the viewpoint.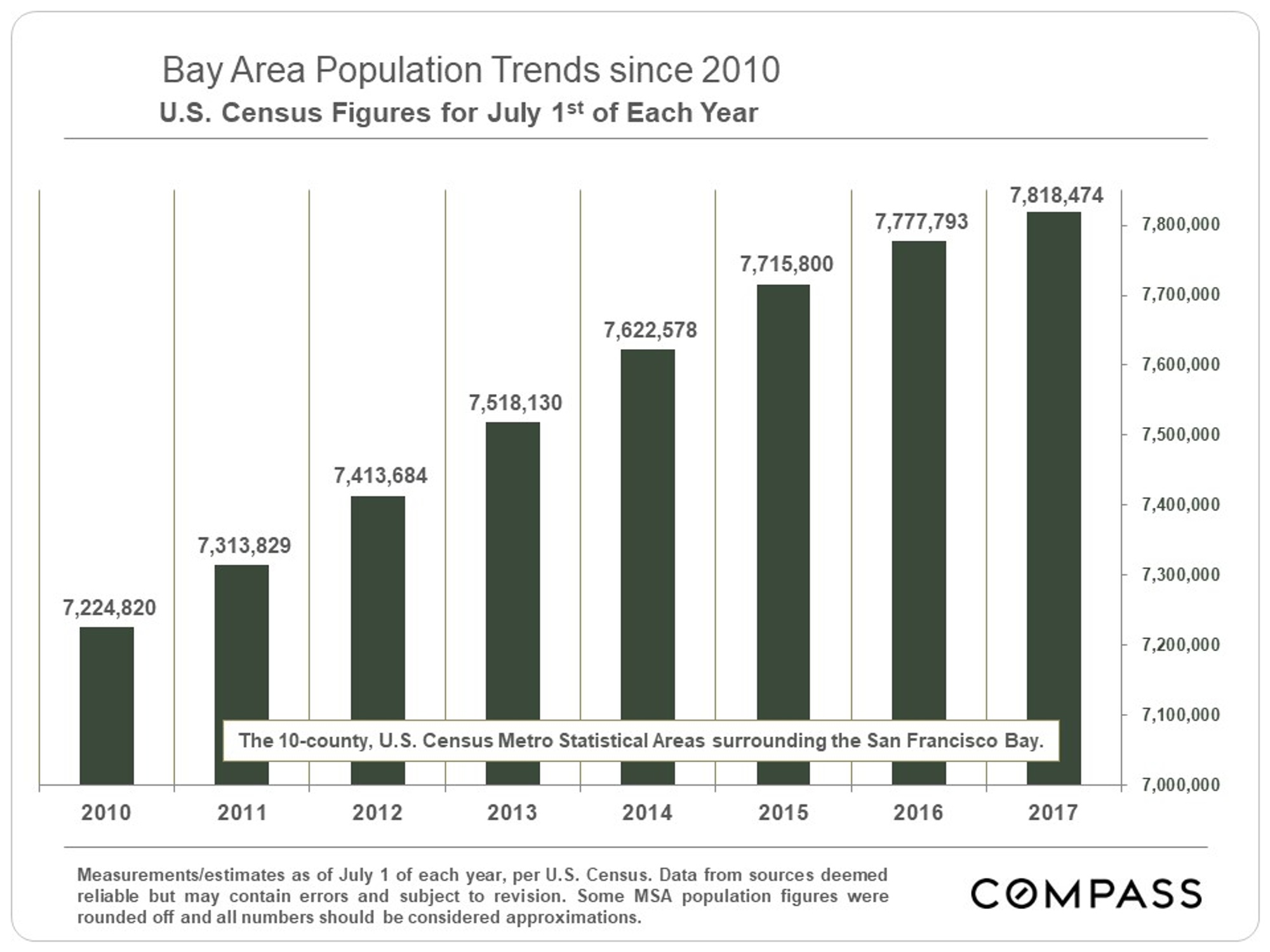 The new U.S. Census state-to-state migration data for 2017 is illustrated below. Generally speaking, the Bay Area has followed state trends, i.e. more people moving out than moving in domestically, but that deficit more than made up by foreign immigration. Employment and/or cost of living issues, including housing affordability, are probably the dominant factors in these migration figures. It will be interesting to see whether the new 2018 federal tax law changes and the increasingly negative U.S. government attitude to immigration affect 2018 migration figures.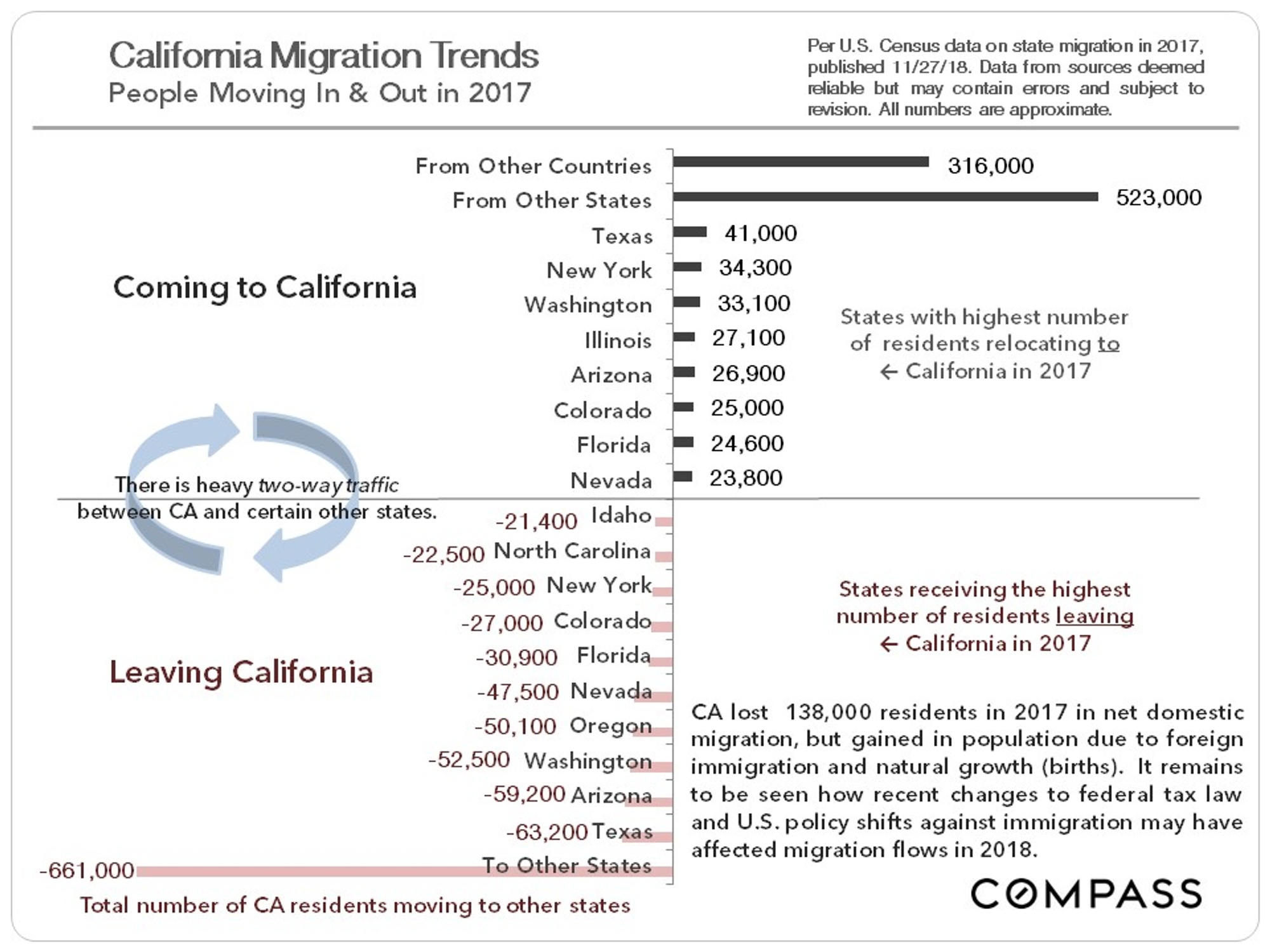 ………………………………………………………………….
It is impossible to know how median and average value statistics apply to any particular home without a specific comparative market analysis.
These analyses were made in good faith with data from sources deemed reliable, but may contain errors and are subject to revision. It is not our intent to convince you of a particular position, but to attempt to provide straightforward data and analysis, so you can make your own informed decisions. Median and average statistics are enormous generalities: There are hundreds of different markets in San Francisco and the Bay Area, each with its own unique dynamics. Median prices and average dollar per square foot values can be and often are affected by other factors besides changes in fair market value. Longer term trends are much more meaningful than short-term.
© 2019 COMPASS